School Profile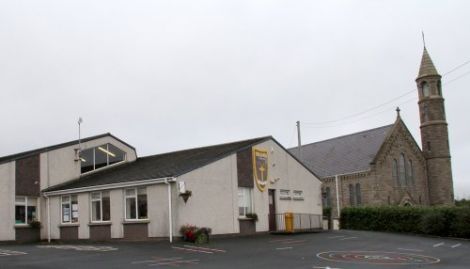 Grange Primary School is a rural, Catholic maintained primary school situated within the parish of Upper Mourne, 3 miles from the town of Kilkeel, near the shores of Carlingford Lough.

The school is situated in the townland of Grange, in an area of outstanding natural beauty and steeped in a rich and colourful history and tradition. The school is adjacent to Our Lady of Lourdes Church, Grange and in close proximity to Greencastle Castle, Carlingford Lough, Cranfield Beach, Kilkeel Harbour and The Silent Valley.
Grange Primary School has been an integral part of the local community for generations. We have established strong links with the Parish of Upper Mourne, our local pre-school and post-primary school and the local football club. Most of the pupils who attend the school live within the local parish, while a number of pupils also travel from neighbouring parishes to attend our school. There are strong family connections which have been established over the years, as several generations of the same family are proud to attend Grange Primary School.
The present school building opened in 1990 and comprises of a central building of 4 classrooms, a large Central Resource Learning Area, a multipurpose gymnasium/dining hall and a single mobile classroom.
The school is very well resourced, with interactive whiteboards and iPads in each classroom, and the central learning area comprising a computer suite, library section and shared activity based learning section. Our school possesses an extensive library of levelled readers used to promote the development of reading skills throughout the Foundation Stage and Key Stages One and Two.
School meals are served on site. There is a fully equipped school gym/hall with a stage area to facilitate school plays and assemblies.
There are two separate, spacious hardcore playgrounds for external activities. The overall presentation of Grange Primary School's accommodation reflects an attractive, well-maintained environment for the children who attend the school.
There are currently 118 pupils in Grange. The pupils in our school are highly motivated and well nurtured in a caring, learning environment. Our staff set high expectations of the pupils in their care and our pupils' level of attainment is consistently high throughout the school.
Our pupils access a wide range of after school activities including: Gaelic football, camogie, netball, dance fit, modern languages, crafts and more. We secure the services of outside expertise to offer our pupils a wide range of learning experiences.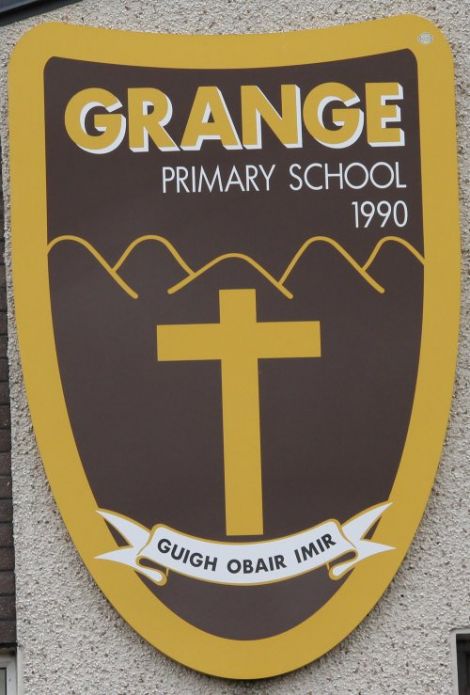 We have a very strong Music tradition with several Key Stage Two pupils availing of the EA music service individual and small group woodwind tuition.
Our school choir is renowned in the local community and parish and participates in many events includin parish Masses, as well as going out into the local community perform at the request of various community and voluntary groups. All our pupils are encouraged to perform and compete in the local Feis in Warrenpoint, Newry and Feis an Duin.
Our school staff comprises 5 teachers: 5 full time and 1 Principal Release teacher. We also have a strong team of 4 classroom assistants. There is a very high level of expertise within the staff and the curriculum leaders and leadership team have a shared responsibility for the development of a broad and balanced curriculum.
Our teachers are hard working and committed to the children in their care with several coming directly from the local community and past pupils of the school itself. Our staff commits to a strong team ethic, while investing heavily in the development of working pastoral care policies to ensure that the school environment reflects our Catholic ethos which puts the child at the centre of all we do.
In our school, there exists excellent parental involvement and support, with parents volunteering their time. Our parents are always welcome, and kept fully informed of their children's progress and of any curricular developments within the school.
The school has an active "Friends of Grange" Parents' Support Group which fundraises jointly towards enhancing the pupils' experiences and opportunities as well as supporting the work of local and national charities.
The school has a proactive Board of Governors, which remains well informed, committed to and actively involved in school life. Governors work conscientiously with the Principal and staff to ensure that the highest possible standard of educational provision is delivered within the school. Successful links also exist within the community through the Parish, local primary and post-primary schools, and GAA Club and through participation in Feisanna and other competitions.
Through school newsletters, our school app and our vibrant school website, we seek to keep parents informed and also to celebrate learning, achievement and success in Grange Primary School.
Grange Primary School, 20 Lurganconary Road, Kilkeel, Co. Down BT34 4LL | Telephone: 028 4176 2033 | Fax: 028 4176 9458