Mourne Primary School's Skills Day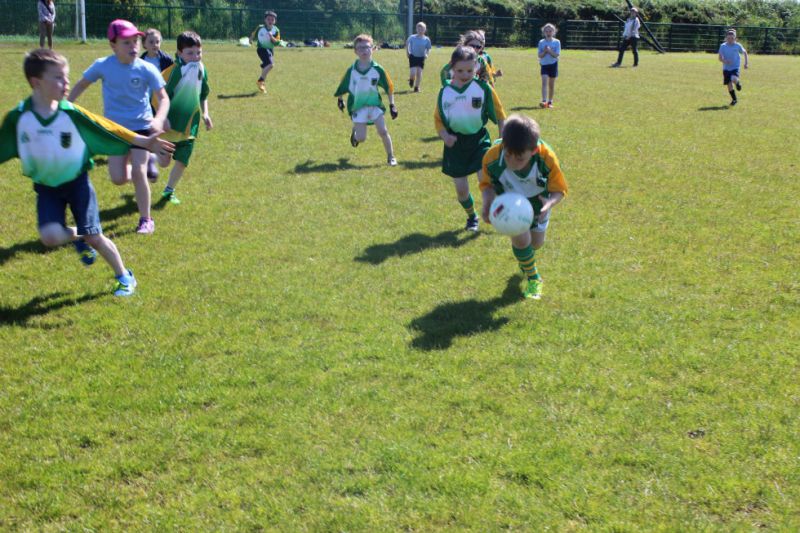 Recently, at An Riocht's GAA pitches over 150 children from three local Mourne Primary Schools – Grange, Moneydarragh and St. Colman's gathered to participate in a morning's participation in Gaelic games.
The pupils ranged in age from Primary 3 to Primary 7 and the emphasis was all upon participation, sportsmanship, skills and enjoyment.
The pupils were split into teams of mixed gender and ability and they enjoyed a range of football, hurling and camogie.
Although there was no actual competition, each school was competing to get their hands on one of two trophies. Firstly on offer was the Fearon Family Camogie / Hurling shield, donated by Noel and Paula Fearon and family to Grange Primary School, after their youngest girl, Clare left primary school in 2013. With a strong sporting link right down through their years in the school, the family wished to provide some incentive to maintaining the rewarding and healthy opportunities that playing sport affords young boys and girls.
The second trophy to be awarded was a special plaque in the design of a Celtic cross, named the Conal Baldwin Perpetual Skills Award. The award was commissioned by Grange Primary School in recognition of one of its past pupils, the late Conal Baldwin. Conal's legacy in the primary school related primarily to his participation, enjoyment, skill and enthusiasm on the sporting field and especially in hurling. In his time in Grange Primary School, Conal achieved the success of becoming the County Down School's Feile winner, an achievement never before or since realised by a pupil outside of the Ards Peninsula.
Throughout the morning's proceedings, teams were awarded points for competition, skill, attitude and sportsmanship as the referees were ably supported by Aine and Colleen Fearon and Joanne and Joe Baldwin in scoring the matches.
At the end of the day's activities, the Fearon Family Shield went to the Primary 3 & 4 pupils from Grange Primary School who shoed all the attributes being assessed, as well as having considerable fun into the bargain. Commended by Aine and Colleen for their effort on the day were Jack Killen, Caiden McVeigh, Annalise White, Cora Speers and Tianna McCormick from St. Colman's; Luke Rafferty, Daniel O' Sullivan, Cara Mc Cann and Matthew Speers from Grange and; Eabha Barry and Dara Cotter from Moneydarragh.
Colleen and Aine took great pleasure in presenting the trophy to the two team captains on the day, Luke and Shea Rafferty.
After events in the Primary 5-7 games unfolded, the school showing all the positive sporting attitude and skills synonymous with Conal was Moneydarragh Primary School. Speaking to the pupils from the three schools, Joe Baldwin commended everyone for their effort and enthusiasm on the day, but remarked that that extra bit of skill evident on the day could be seen most in the play of the boys and girls from Moneydarragh. Special mention was also made by Joe and Joanne of specific pupils from the three schools whom they had witnessed show all that is great about young people playing team sports and children who ultimately represented their respective schools with pride.
These included, Oran Phillips, Bailey Morris, Michael McEvoy, Ellie Morgan, Reanna Walsh, and Amy Clarke from St. Colmans; Rachel Clarke, Caitlin Harper, Ethan Mc Culla, Daniel Speers and Shane Kelly from Grange and for the victorious school, Dylan Poland , James McAstocker, Niall Burden, Sean Trainor and especially Conor McConville, It was also worth noting for the future the skill levels exhibited in both codes by Natasha Rooney and Grainne Cunningham.
Very happy and worthy captains, Tara Rooney and Dylan Poland gratefully accepted the trophy from Joanne and Joe Baldwin on behalf of their school and team mates.
At the presentation, Ms Margaret Rogers, principal of Moneydarragh expressed her thanks and gratitude to the organisers, to the referees, Turlough Eastwood and An Riocht Club and to the boys and girls for making it a very enjoyable day.
Mr. Sean Mc Kinley, who organised the event thanked all 3 schools for coming along and supporting the event.
Photo 1: Colleen & Aine Fearon present Grange Primary School captains, Luke & Shea with the Fearon Family Shield;
Photo 2: Participants from P3/4 year groups;
Photo 3-5: Participants from P5-7 classes;
Photo 6: Joanne & Joe Baldwin present Moneydarragh captains, Tara & Dylan with the Conal Baldwin Perpetual Skills Plaque.
Grange Primary School, 20 Lurganconary Road, Kilkeel, Co. Down BT34 4LL | Telephone: 028 4176 2033 | Fax: 028 4176 9458